Hi all National E Sailors,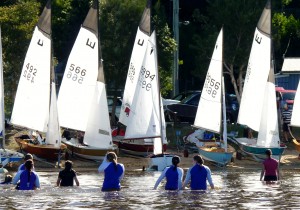 As pre-empted at the last Regatta in Balmoral this year's National Championship will be at Lake Cootharaba, near Noosa in Queensland. The dates that are just about locked in are start Saturday 29th December, finish Thursday 3rd of January. This gives plenty of time to get up there and back after the family Christmas and before returning to work.
Four of us this year made it up to the Jack Holt Regatta in early May and as I was one of them I can attest to what a wonderful place it is to go sailing. Check out the National E website and take the link to the Jack Holt Regatta and then to the Lake Cootharaba Sailing Club to get a feeling for the Nationals.
Camping accommodation right on the Lake, next door to the sailing club or houses for rent along the lake shore. Or if you'd prefer 20 minutes down the road to Noosa and everything that's available in that holiday resort.
What I would like at the moment, if at all possible is an indication from you that you may be going or that you are thinking of going. It would be great at this stage to get a handle on numbers as it would make it easier to negotiate with the sailing club and we can pre-book some camping sites in the name of the E's. So please reply and help to make this a truly great National's experience.
Cheers
Jim Allen
National President