Thank you to everyone who played a part in making the recent nationals such a success.
The NSW  E  sailors did a great job in putting it all together.
Thanks especially to Peter Nixey (organisation and courses), Geoff Gill (statistician) Sue Halloran (registration, canteen and presentation dinner), Emily Jones (accommodation and prizes), William Nixey (welcome packs and prize-giving MC), Sarah Mackay (Information and welcome packs), Wilf (& Sabina)  Prest and Chris Connolly (welcome BBQ). Thanks also to everyone else who helped even just by picking up a broom and sweeping the club house.
Thank you to Nicola McCorry  for her photographic efforts!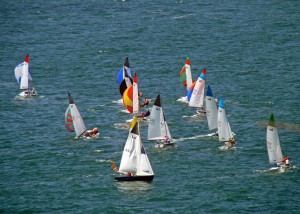 To the Commodore of Balmoral Sailing Club, David Johnson and the PRO, Heather Hall, and her team of stalwarts a very special thank you.
Thanks also to the competitors, especially those who travelled from interstate to compete. The races were keenly but fairly contested and it was great to catch up with sailing friends and families at the end of each day's sailing.
Congratulations to all the winners and place getters but especially to the new national champions – David Taylor (helm) and Gavin Peace
(crew) who sailed Santoy (E492).
Jim Allen
President